Mutton Dum Biriyani in Kuwait
Mutton Dum Biriyani In Kuwait, Thakkara has the Best Mutton Dum Biriyani In Kuwait. Try Them from Any of Our Branches
Mutton Dum Biriyani In kuwait - Thakkara Branches
Mutton Dum Biriyani - Thakkara Indian Restaurant In Kuwait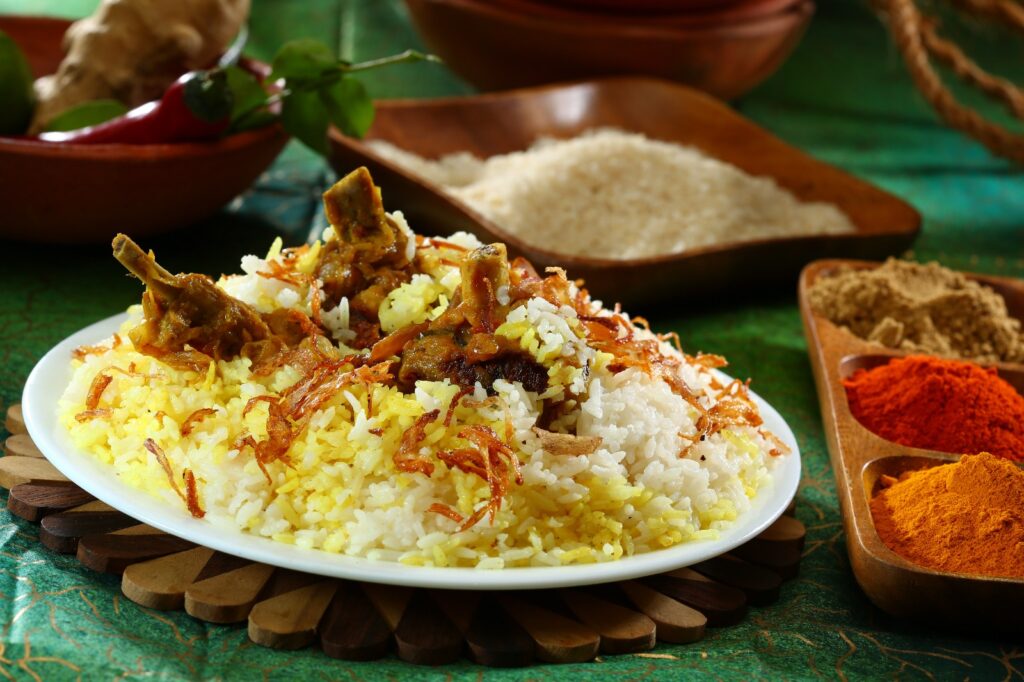 Mutton Dum Biriyani in kuwait is available at all Thakkara Branches Across Kuwait is a traditional South Asian dish that is loved by people all over the world. It is a flavorful and aromatic dish made with tender pieces of mutton, basmati rice, spices, and herbs. Mutton Dum Biriyani is a staple dish in Indian cuisine and is enjoyed by people of all ages. You Can order Mutton Dum Biriyani From Thakkara
At our Indian restaurant in Kuwait, we are proud to offer a delicious and authentic version of Mutton Dum Biriyani. Our biriyani is made with the finest ingredients and is cooked to perfection using the traditional "dum" method. This method involves slow cooking the ingredients together over low heat for several hours, allowing the flavors to develop and meld together.
The mutton in our biriyani is cooked in a flavorful sauce made with yogurt, ginger, garlic, and a blend of spices, which adds a delicious tangy taste to the dish. The biriyani is seasoned with a blend of spices, including cardamom, cloves, cinnamon, and cumin, which give the dish its rich and flavorful taste.
The biriyani is then topped with fried onions, raisins, and cashews, which add a crunchy texture and a sweet taste to the dish. The biriyani is garnished with fresh coriander leaves, lemon wedges, and saffron, which give the dish its beautiful color and aroma.
Our Mutton Dum Biriyani is the finest Dum Biriyani in Kuwait, which is served with raita, a side dish made with yogurt, cucumber, and spices, which helps to cool the palate and balance the flavors of the biriyani. This delicious and flavorful dish is sure to satisfy your taste buds and bring a little bit of India to your table. Come and enjoy a taste of India at our Indian restaurant in Kuwait.
In conclusion, Mutton Dum Biriyani is a delicious and flavorful dish that is loved by people all over the world. If you are looking for a delicious and authentic Indian dish, be sure to try our Mutton Dum Biriyani at our restaurant in Kuwait or order online We are sure that you will love the flavors and aromas of this delicious dish.
Enjoy our Mutton Dum Biriyani from any of our Branches across Kuwait - Thakkara
Best Beef Biriyani In Kuwait
Best Shrimps Biryani in kuwait
Best Kaada Biriyani In Kuwait
Best Egg Biriyani In Kuwait
Best Veg Biriyani In kuwait